Kenyans are some of the most passionate sports fans in the world. Whether it's football, rugby, cricket or track and field, people love to bet on their favorite teams and players. And now there's an app that allows you to do just that – Betika!
What is Betika and What Does It Offer Kenyan Sports Fans?
Betika is a Kenyan sports betting company that offers its customers the chance to bet on a wide range of sporting events. It also offers a number of other gaming products, including gambling activities.
Using the Betika app is a quick and easy way to place bets on your favorite sporting events, and there are a number of bonuses and promotions offered to Betika customers who use the app.
How to Download the Betika App APK in Kenya
We'll show you how to quickly and easily download Betika APK. Just follow these simple steps:
Go to the Betika website.
Open the "App" section in the menu.
Click on the "Download for Android" button.
Your device will immediately begin downloading the APK, and your next step will be installing the Betika app using this APK.
How to Bet on Sporting Events
When you open the Betika app, you will see a list of all the sporting events that are currently being offered for betting. Several sports are available for you to pick from, including soccer, rugby, tennis, athletics and cricket.
To place a bet, just select the sport you want to bet on and then click on the event you are interested in. A listing of all the wagers that are open for that event will then appear. Choose the one you want to place and enter the amount you want to bet. Click on "Place Bet" and you're done!
It's as simple as that! So why not download the Betika app and start betting on your favorite sports today?
How to Make a Deposit on Betika
Let's talk about how to deposit money on Betika, since if you don't know how, you're at a significant disadvantage.
Go to Betika's website or run the app.
Navigate to your profile.
Press the "Deposit" button.
Choose the most advantageous deposit method from the options provided.
Enter the amount that you want to transfer.
Click the confirm button.
Your transfer will be completed, and you will be able to begin betting!
Video guide.How to deposit on Betika app
How to Withdraw Funds from Betika
Let's discuss withdrawal while we're talking about deposition. To withdraw your cash from Betika, do the following steps:
Go to Betika's website or run the app.
Navigate to your profile.
Click the "Withdraw" button.
Choose the most advantageous withdrawal method from the options offered.
Enter the amount you want to withdraw and click Confirm
Done!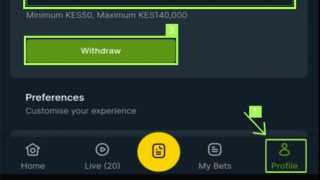 Some of the Best Betting Tips for Kenyan Sports Fans
Kenyan sports fans who are looking to make some money by betting on their favorite sporting events should follow these simple betting tips:
Always research the teams involved before making a bet, in order to get an idea of their form and recent performances;
Be aware of the odds for each bet and choose wisely;
Remember that it's important to have fun while betting, so choose events that you are interested in;
Set a money limitations for your betting activities on daily/weekly and monthly basis;
Do not try to make up with new rushed bets right after your previous bet did not work out.
Follow these simple tips and you're sure to make some money while enjoying some exciting sporting action.
Conclusion
Betika is a Kenyan sports wagering company that was founded in 2013. It has quickly become one of the most popular betting companies in Kenya due to its several different wagering choices and great customer service. The Betika app APK can be downloaded on any Android device, and it's a very user-friendly app. In this article, we've shown you how to obtain the Betika app APK and we've also given you a brief overview of what Betika is all about. We hope you enjoy using the Betika app!