Making an account on a platform is how a bettor's journey usually starts. The options for registration might vary, with some services providing only the ability to join the platform by providing your phone number or email, while others will ask you to go through a long and extensive procedure, requiring a newcomer to enter a lot of information during the initial stage. Some bookmakers may offer additional options, such as registering via social networks.
Our article will be entirely focused on the registration and authentication processes at SportyBet. This Nigeria-based platform has been on the market for many years and has quickly become popular across the whole region, including Kenya. It offers many useful features, including a large list of sports and useful well-made mobile apps for both iOS and Android. In this text, we will provide guides covering how to join SportyBet Kenya as well as review possible issues one might encounter during the registration procedure.
Why Should One Join SportyBet?
With how fierce the competition among betting platforms now can be, one might wonder why they should make an account on this bookmaker. Our main answer would be that the platform is full of several features and is essentially an all-in-one betting service. We also think that it's too easy to sign up for SportyBet. But let's take a closer look at what the platform offers.
Many Sports to Bet on
SportyBet provides a sizable list of disciplines to wager on. It might not compare with the offers of the largest betting platforms, but it will be more than enough for the majority of Kenyan punters. There are popular games such as football, volleyball, and tennis, as well as less common ones like cricket, snooker, and futsal. The eSports options mainly consist of Dota 2 and Counter-Strike.
Live Betting
Wagering on the events as they happen is a feature offered by some bookmakers. SportyBet is among them. While offering a more thrilling experience, live betting provides constantly changing odds and more emotions to the players when compared to regular wagering.
Mobile Apps
Smartphones are a big part of modern life. The ability to have access to your preferred service from anywhere can be vital. Bookmakers can be such services; that's why the majority of modern betting platforms offer a mobile application. SportyBet provides an app for iOS and Android. It's well-designed, looks nice, it is easy to download and use and offers a complete set of features.
SportyBet Registration Process on the Website
Making an account on SportyBet online by using the desktop website is a quick and easy process. In the paragraphs below, we will look at the required steps in a greater level of detail.
Registration in the App
If you want to create an account using the mobile application, then the process is quite similar. It's also incredibly straightforward as well. Here are the steps you have to take to join the platform by using the mobile app.
Other Possible Registration Methods
Some bookmakers offer additional registration methods: by SMS or USSD code, or even by using third-party websites such as social networking services. Let's see what SportyBet Kenya offers.
How to Join SportyBet via SMS
You can create your account on the platform via SMS. This method works great if you can't go online or don't own a smartphone. Simply send a message containing the word "signup" to the number 29123. You will receive the instructions needed as well as the password.
One thing worth mentioning is that apart from "signup," you can alternatively send the word "register" or "accept" to that number for the same effect.
How to Log In
Authentication for existing users is also fairly straightforward. It usually goes without issues and can be completed in seconds. Let's check how to sign in.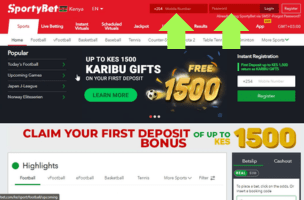 Type In Your Phone Number and Enter the Password
Locate the "Mobile Number" field on the top right part of the page. Enter the valid number that you've registered with. There's the "Password" field to the right of the "Mobile Number" one. Enter it, and that's the last thing to type in during the authentication procedure.
How to Recover a Password
If you forgot your password or need to reset it for one reason or another, such as after the SMS registration, then the platform provides a straightforward way to recover it. Here are the steps:
Open the SportyBet Platform
Visit the website. Under the "Mobile Number" and "Registration" fields, you can locate the "Already using SportyBet via SMS? Forgot Password?" button. Click on it.
Possible Issues Regarding Sign-Up and Authentication
You can encounter some issues during the registration or authentication processes. Those are rare and usually easily fixable, but let's take a look at them.
The Credentials are Invalid
This error message usually occurs if the information you provided during logging in is incorrect. Check it and then try again. If everything seems to be right, but the message still appears, try to contact customer care. Maybe there are server-side issues with the bookmaker.
The Website Doesn't Log Me in
If you've provided correct information and no error message has occurred, but the website still doesn't sign you in, then it's most likely to be a server-side issue. Take a break and wait for a few minutes. Search for the website to mention any maintenance works. Check if you're online and test your Internet connection. Contact customer support if the issue doesn't resolve itself.
Conclusion
SportyBet is an actively used platform in Africa, including Kenya. With its impressive number of features and a good selection of sports, the bookmaker attracts various kinds of punters. Thanks to its simple registration procedure, joining the platform is as easy as it gets. Logging in and password recovery can also be usually done without any issues.
We hope that the information provided in our article can be useful to those who have doubts about joining the platform. While the registration procedure on the majority of platforms is usually incredibly easy, it can be much more complicated on other websites. Thankfully, that's not the case with SportyBet: you can create your account in less than two minutes and start enjoying the platform's capabilities.
If you want to read more about SportyBet Kenya, we have other articles covering the platform: there's the main review and separate texts on various aspects of the bookmaker.
FAQ
How do I use my bonus to bet?
You can get your first deposit matched and receive the funds. Then you have to wager them by simply placing bets.
What is the bonus code for SportyBet?
Since there's a SportyBet affiliate program in place, you can easily find referral promo codes on Google.
Can you win money on SportyBet apps?
Yes, the platform is legit, and so are its applications for iOS and Android. You can use either to have access to all of the betting features provided by the bookmaker and win money.
How do I download the real SportyBet app?
The SportyBet app for Android is offered on the official website as an APK file. The iOS version can be found in the App Store. We don't recommend downloading from third-party websites since you can easily run into scams.
What countries is SportyBet available in?
The service is offered in many countries of the African continent. The list of such places includes Ghana, Tanzania, Uganda, and Zambia. The bookmaker also operates in Nigeria, its home country, and Kenya.
Is there a company behind SportyBet?
Yes, it's called Sporty Group. Its CEO is Sudeep Dalamai Ramnani, who founded the bookmaker in 2013 and is technically the SportyBet owner.